Recent data continue to show that in New York City, the nation's largest school district, a student's opportunity to learn in a school "In Good Standing," as measured by the state's own tests, depends on the financial status of the student's family.
Adequate yearly progress (AYP) is the measure by which schools, districts, and states are held accountable for student performance under Title I of the No Child Left Behind Act of 2001, the current version of the Elementary and Secondary Education Act. AYP is used to determine whether schools are successfully educating their students. The New York State Education Department has recently provided information on the state's school accountability status for the 2010-2011 school year.
The chart included in this post shows New York City Community School District data.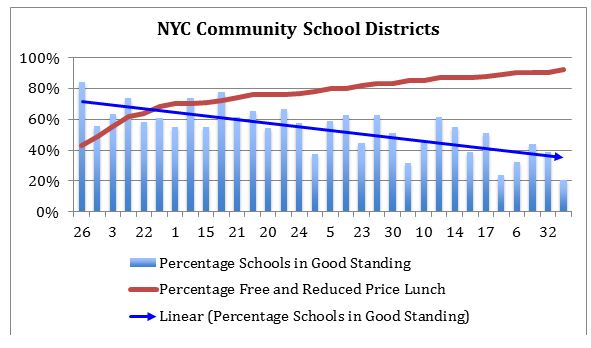 The columns indicate the percentage of schools in each Community School District "In Good Standing" under NCLB. The blue, downward sloping, arrow is a trend line. The red, upward sloping, line indicates the percentage of students in each Community School District eligible for free and reduced price meals through the National School Lunch program, a measure of poverty.

These data indicate that in New York City, Community School Districts serving more affluent families have higher percentages of schools "In Good Standing." Community School Districts serving less affluent families have lower percentages of schools "In Good Standing."