High school graduation is vital for entry to college, for employment, lifelong earnings and even longevity. And yet fewer than half of Black male students graduate from high school.

The accompanying chart shows that this tragic problem is concentrated in a few states, especially in Texas, Georgia, New York and Florida, the states with the largest numbers of Black students. The average Black male graduation rate in these states is in the mid- to low-40s. California and North Carolina are at 56 percent and 58 percent, respectively. New Jersey is at 65 percent.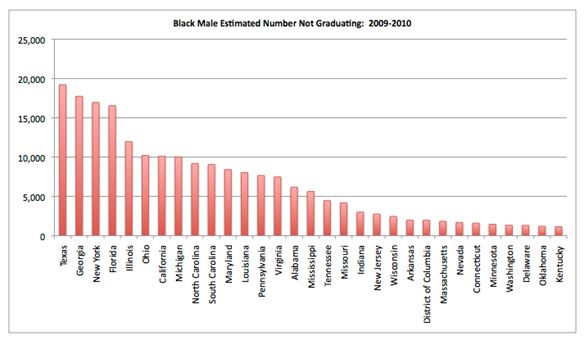 In all, each year, more than 200,000 Black male students who were in grade 9 four years earlier do not receive their diplomas. Some will do so the following year; a very few will do so a year or two later.

If the national graduation rate for Black male students were at New Jersey's 65 percent level, an additional 57,000 would obtain diplomas after four years. If the achievement gap with White male students were closed, at 79 percent, 115,000 male Black students who now do not receive diplomas would do so.

That would be a very good thing for them, for their families and for the nation.