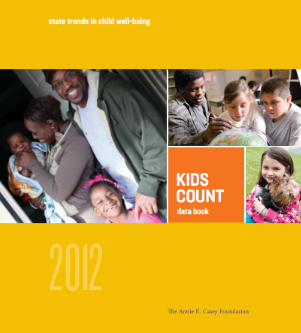 If you count yourself as an advocate for children, you need to take look through the 2012 version of the Annie E. Casey Foundation's annual "KIDS COUNT Data Book," just released this week. You'll find a wealth of information about the well-being of our nation's children, including state-by-state data on educational opportunities, economic security, access to healthcare and family and community environments. The report illustrates the deep disparities between children of color and their White peers and between children from wealthy and low-income families in access to the opportunities and supports necessary to succeed in school and in life. Overall, the report finds that a higher percentage of students of color are living in poverty, not attending preschool, not graduating on time and don't have health insurance compared to non-Hispanic White children.
As the report notes: "The most striking finding is that despite tremendous gains over recent decades for children of all races and income levels, inequities among children remain deep and stubbornly persistent. The recession exacerbated some socioeconomic inequities that were already on the rise with potential negative consequences for the future."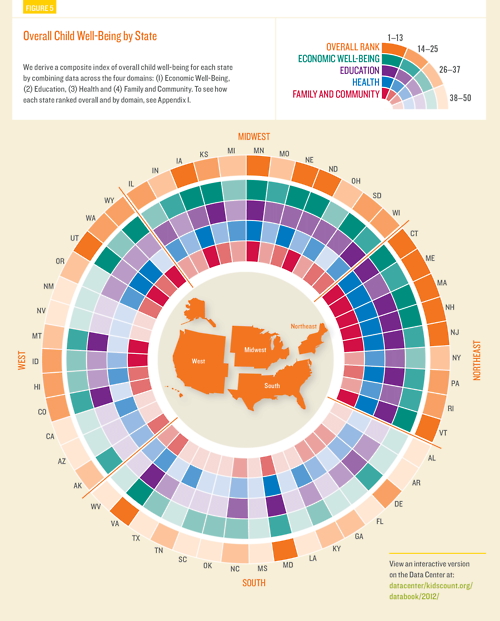 Some highlights from the report:
Nationally, the number of children in poverty increased by 2.4 million (16 percent) from 2005 to 2010.
Though 5 percent more children are attending preschool over the same period, more than half (53 percent) of 3- and 4-year-olds were not enrolled in preschool in 2008-2010. 1 in 4 high school students did not graduate on time in 2008-09.
1 in 4 high school students did not graduate on time in 2008-09.
5.9 million children (8 percent) lacked health insurance in 2010, a 20 percent improvement from 2008.
There's an interactive state-by-state component of the report (pictured right) that you should check out here.
Ezra Klein's WaPo "Wonkblog" has some great infographics and fantastic analysis of the report, so be sure to check that out here.
You can download the full report here.