UPDATE: Join the discussion and follow live updates from the event on Twitter using #Journey4Justice and on Facebook!
---------
Students, parents, teachers and other education advocates across the nation are fed up with school closures. And they're taking their protest to Washington, D.C this week! As Andre Dunbar, a student activist from the Philadelphia Student Union explains in a guest post on Anthony Cody's Education Week blog, "Journey for Justice" will take place on Thursday, September 20th. Buses will be arriving from Atlanta (GA), Boston (MA), Baltimore (MD), Chicago (IL), Cleveland (OH), Detroit (MI), Europa (MS), Hartford (CT), Kansas City (MO), Los Angeles (CA), New Orleans (LA), Newark (NJ), New York City (NY), Oakland (CA), Philadelphia (PA), and Wichita (KS). Advocates will assemble at the D.C. Public Schools Offices and march to a rally at the U.S. Department of Education.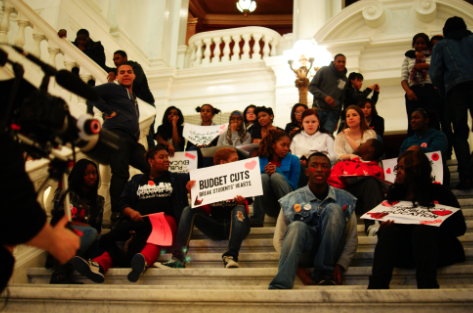 In his passionate blog post, Dunbar writes about how school closures harm local communities and fail to help students. Instead, we need an investment in our public education system:
"We are going to Washington, D.C., because this problem is bigger than Philadelphia--it's a national problem. Setting schools up to fail is a national problem. Cutting funding from the schools that need it the most is a national problem. School closings that target our communities are a national problem. So we are going to the source.

If the Department of Education stops pushing for school closings and invests in public education, more students will graduate. More students will be excited to go to school and get the education they deserve. We demand a better education so we can have a brighter future. This is why the students from the 11 cities making up the Journey for Justice bus caravan are demanding a moratorium on all closings, turnarounds, and phase-outs. We demand that the community be engaged in all school transformation processes. And we demand a meeting with president Obama. He has been listening to the wrong people when it comes to education policy. We need him to listen to the students and Save Our Schools!"
Read Dunbar's full post here. Journey for Justice is an event not to be missed! We'll post pictures and video of the event, so check back soon for updates!
And don't miss the powerful YouTube trailer for the event below!