The following post was written by Thomas Beebe, Project Manager for Opportunity to Learn - Wisconsin. The post was originally published on the Wisconsin Alliance for Excellent Schools website, and is reprinted here with his permission.
----------
Department of Public Instruction Superintendent Tony Evers was in Milwaukee, Sept. 26, to discuss with educators, students, parents, and community members "what to expect when you're expecting more budget cuts."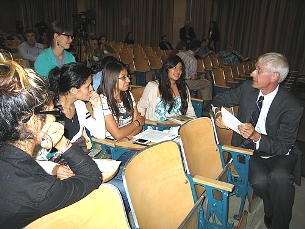 Evers was ready with an answer. First, he doesn't expect more budget cuts. Public education is too important, he said, and school resources
took deep cuts in the last state budget. Therefore, the State Superintendent said he expects the Governor and the Legislature to begin reinvesting in Wisconsin's public schools.
He also said he expects community groups like the one he addressed in Milwaukee to take the lead in asking state government for change.
Second, the State Superintendent said his budget would reflect the needs of children all over the state and ask for resources in those areas that make the most difference in teaching and learning. Evers spent most of his time talking about "Fair Funding for Our Future," his school-funding reform plan that begins correcting over 20 years of funding problems.
The event was sponsored by Parents for Public Schools of Milwaukee, with help from Milwaukee Public Schools Director Larry Miller, the Institute for Wisconsin's Future, and the Wisconsin Alliance for Excellent Schools. It was attended by about 100 people and was held in the MPS Central Office Auditorium. The entire event is available on WisconsinEye.
Evers talked about the three R's of fair funding: Reinvesting, reforming, and restoring. He explained that school resources have increased for years until the deep hole created by the 2011-13 state budget. From a high of 43.1 percent of the state budget in 2003-04 it has sunk to only 33.1 percent in 2012-13, a difference of hundreds of millions of dollars.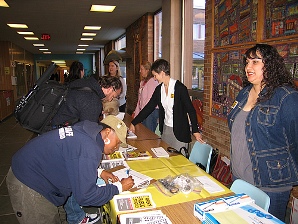 Supt. Evers said he understands the fiscal problems the state faces, but he also said public schools didn't cause those problems and, until we prioritize children and begin reinvesting in their education, the economy will remain sluggish.
"Fair Funding for Our Future" is the reform piece of the three R's. Evers said his plan finally makes the poverty of families' part of the formula. Now, school aid is only based on property values, which in large part mean educational quality is a function of in what zip code people live.
Evers' reform plan also establishes minimum aid per student─where, now, many school districts receive no general aid─and it increases public transparency by transferring the property tax levy credit into the aid formula. "Fair Funding for Our Future" is also indexed inflation so that school districts can keep up with cost increases.
Finally, Supt. Evers dealt with restoring three key elements important to public education:
He emphasized restoring respect for teachers, something that has been lost during the political battles of the last two year.
Evers said it is critical to "provide crucial resources to restore cuts to career and technical education as well as electives like music, art, and physical education."
Finally, he said we need to expand access to technology so that every child in Wisconsin can be ready for a career, college, or whatever comes after his or her K-12 experience.
Download Superintendent Tony Evers' PowerPoint presentation by clicking the attachement below.