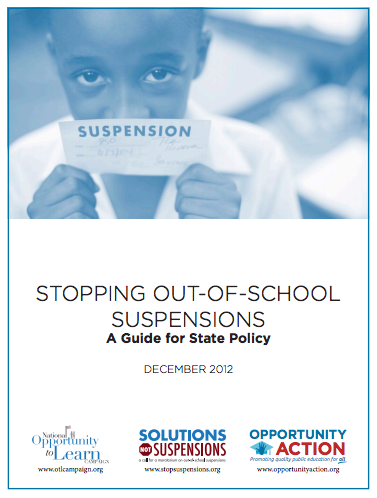 Need some help developing or advocating for policies in your state to tackle school pushout and end the school-to-prison pipeline? Then look no further than this newly released state policy guide from the Opportunity to Learn Campaign! The guide provides advocates and policymakers with recommendations for ending the ineffective and discriminatory practice of out-of-school suspensions, which contribute to our national pushout crisis. The guide also provides a summary of the significant action and legislative proposals that are already underway in states to address this crisis.
Even more exciting: OTL allies will reference the new guide during tomorrow's public hearing on the school-to-prison pipeline held by the U.S. Senate Judiciary Subcommittee on the Constitution, Civil Rights, and Human Rights! You can watch the hearing live here!
The guide was produced as part of the Solutions Not Suspensions initiative, which the OTL Campaign co-launched with the Dignity in Schools Campaign, and which calls for a national moratorium on out-of-school suspensions.
Why? Every year, 3.3 million of our nation's students are suspended from school. According to data from the U.S. Department of Education, Black students are three times as likely as their White peers to be issued an out-of-school suspension, along with almost one in 13 Latino students.
Suspensions are often the first stop along the school-to-prison pipeline and play a key role in pushing students out of the school system and into the criminal justice system. Once suspended, students are three times more likely to drop out by the 10th grade than a student who has never been suspended. Dropping out in turn triples the likelihood that a person will be incarcerated later in life.
"We shoulder a responsibility to ensure that all of our young people graduate ready to succeed in college, a career and life. Our students won't be successful if we continue to push them out of school and lock them out of opportunities," said Joseph Bishop, Director of Policy for the National Opportunity to Learn Campaign. "State leaders and advocates should join the growing national movement to end the harmful and discriminatory practice of out-of-school suspensions, and support policies that prevent and stop the removal of students from school for disciplinary reasons."
"Stopping Out-of-School Suspensions: A Guide for State Policy" state advocates and policymakers with the tools to understand both the racial implications of school discipline policies and how they impact student learning. Some action steps that policymakers can take to stop out-of-school suspensions outlined include:
• Hold hearings or briefings on school discipline;
• Sign the pledge at www.stopsuspensions.org to stop out-of-school suspensions and join the nationwide Solutions Not Suspensions initiative in calling for a moratorium;
• Work with local and state advocates, experts and policymakers to make appropriate policy changes, including supporting existing efforts that may need more policy champions;
• Promote policies that support alternative school discipline models; and
• Develop a comprehensive positive school discipline strategy that includes building the capacity of students, parents, teachers, principals and communities to promote greater academic, social, emotional and physical health.
Advocates and policymakers are encouraged to consult the report "Opportunities Suspended: The Disparate Impact of Disciplinary Exclusion from School," published by the Civil Rights Project at the University of California's Center for Civil Rights Remedies, for detailed national and state-level data that illustrate the race, gender and disability-based disparities in the use of out-of-school suspensions.
You can download the policy guide here!