Just as Massachusetts Governor Deval Patrick unveiled a new education spending plan that calls for increased investment in and universal access to high-quality early childhood care and education (ECE), our allies at the Massachusetts Budget and Policy Center released a report on the decline in spending on ECE in the state over the past decade. Their report makes clear that while the governor deserves commendation for his new focus on ECE, there is a lot of ground to make up for when it comes to ensuring our youngest children enter school ready to succeed.
According to the report, total spending on ECE has fallen by a whopping 25 percent (over $174 million) since 2001, primarily due to state income tax cuts between 1998 and 2002. 80 percent of ECE funding in MA comes from the federal government, but the steepest cuts in funding have been at the state level: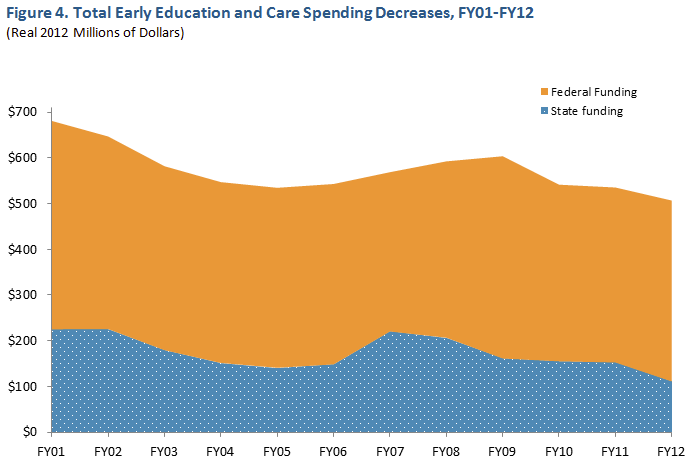 Besides the vitally important role ECE plays in preparing young children to start Kindergarten academically and socially ready to learn, ECE also hepls put people back to work. Enrolling their children in ECE programs allows parents to work – indeed, much of the federal spending on ECE comes in the form of subsidies to parents contingent on their being in the workforce.
As Mass Budget puts it:
"Accessing child care is extremely important for families trying to climb out of poverty, but cuts to early education and care over the last decade have made it more difficult for families to get that support. Today well over 40,000 children in Massachusetts are on a waiting list for child care. While state policies aim to support and encourage work, all too often parents who need affordable care to be able to work do not have access to such care"
All this means that wait lists for spots in ECE programs are growing. Unfortunately, even those children who do get in aren't guaranteed to be in a high-quality program. Remember those federal subsidies? They don't come at market value, which means ECE providers that accept federal money likely won't have enough resources coming in to pay the higher salaries of high-qualify ECE teachers.
You can read Mass Budget's full report here.
And learn more about Gov. Patrick's education plan, which will be included in his proposed 2014 budget, here.