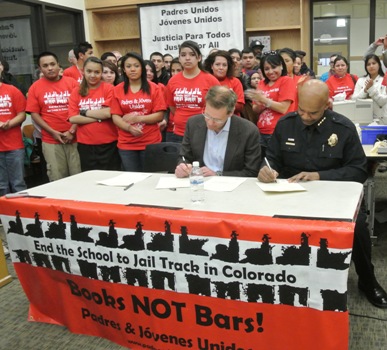 Colorado has long been at the center of the debate over school safety, starting with the tragic shooting at Columbine High School in 1999. There, and in many other states across the country, zero-tolerance policies were enacted that, while well-intentioned, ended up criminalizing students over the slightest infractions and establishing a school-to-prison pipeline.
Thanks to the tireless efforts of the grassroots group Padres y Jóvenes Unidos, real progress in Denver Public Schools has been made:
Amid a national debate about the role of police in public schools, youth leaders from Padres & Jóvenes Unidos have driven Denver Public Schools and the Denver Police Department to sign a groundbreaking Intergovernmental Agreement (IGA). The IGA outlines concrete steps to limit the role of police in public schools, with a restorative justice approach to discipline. This new IGA sets a precedent for cities across the nation striving to strengthen partnerships between communities, education, and law enforcement!
Tori Ortiz, Youth Leader with Padres & Jóvenes Unidos - "I have had friends get suspended and ticketed for minor offenses, and I saw how that affected them as students and took away from their potential. It put them on the wrong track, and I recognized this. And I wanted to find out what I could do to change it. As students, we researched best practices for (these agreements) from around the country and proposed our solutions to Denver Public Schools and Denver Police Department."
Padres is an inspiring example of how youth and parents can organize to pressure our public officials to put education, not incarceration, first. Read more about their success here, and check out local news coverage from CBS: