A report from the Annie E. Casey Foundation, "Reducing Youth Incarceration in the United States" finds that "a sea change is underway in our nation's approach to dealing with young people who get in trouble with the law." Though the US still leads the industrialized world in youth incarceration rates, that rate is declining rapidly and has dropped more than 40 percent over a 15-year period.
However, five states bucked the norm: Arkansas, Idaho, Nebraska, South Dakota and West Virginia all saw an increase in youth confinement. And despite the positive national data, the report notes that the overwhelming majority of locked up youth across the country are held for nonviolent offenses and with significant facial disparities – Black youth nearly five times more likely to be confined than their White peers, and Latino and American Indian youth are between two and three times as likely.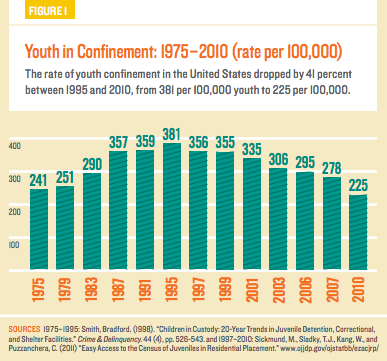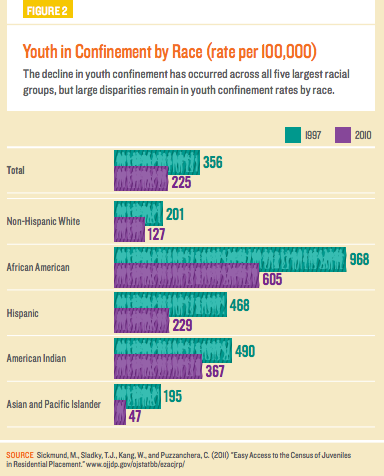 One thing school officials and policymakers can do to help continue the downward trend in incarceration rates (or begin the trend in the five outlier states) is to reduce the use of suspensions and expulsions in school discipline.These exclusionary practices bar students from the classroom, often for minor, nonviolent misbehavior, and are netted out disproportionately to students of color and students with disabilities. By excluding students from the class, the policies increase the likelihood they will fall behind, drop out of school and become involved in the juvenile justice system.
Instead officials should push for positive school discipline policies that keep students in the classroom and implement restorative justice practices. You can learn about successful state policy initiatives in our report, "Stopping Out-Of-School suspensions: A Guide for State Policy."
The Annie E. Casey Foundation report is part of the ongoing Kinds Count Data and Research report series, which tackles a wide variety of issues affecting children including education, juvenile justice, poverty and access to healthcare.
Check out the full series here!