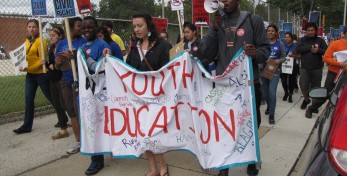 Around 1000 public education advocates from across Wisconsin gathered in Milwaukee on Sept. 21 for the second "Public Education is a Civil Right March and Rally."
The event — which the Milwaukee Journal Sentinel called "a clarion call for public education" — had numerous sponsors that included parents, school board members, legislators, youth groups, teacher organizations. Original coordinators of the march and rally were former Milwaukee Public School (MPS) principal Richard Cohn and MPS board director Tatiana Joseph.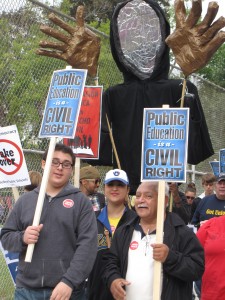 The Saturday march started at the Milwaukee High School of the Arts with MPS youth talking about taking back their education, followed by remarks from MPS Superintendeent Greg Thornton and Shorewood Superintendent Marty Lexmond. Hundreds of marchers walked the three miles over the 16th Street Viaduct, ending up at Forest Home Avenue School, where speakers included John Stocks, former Wisconsin resident and executive director of the National Education Association.
Also on hand were several local, area, and state politicians, including Milwaukee Mayor Tom Barrett.
Organizers and marchers demanded:
Full funding of public schools to provide a world-class education for every Wisconsin student;
Keeping a strong local taxpayer voice in school governance;
Stopping privatization of public education and holding voucher schools accountable; and
Requiring quality physical infrastructure for all schools.
Other speaker included Superintendent Lisa Elliott of the Greenfield School District; Professor Rob Smith; students Antonio Ramirez and Teresa Becerra; and Joseph at Forest Home Avenue School. Emcees were Milwaukee-based performing artists Kwabena Nixon and Muhibb Dyer. Also taking part were student drum lines, dancing groups, musicians, and spoken-word artists.