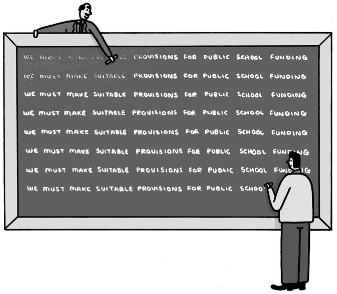 Kansas, like most states, has a line in its state constitution promising to provide a system of free public education. Also like many other states, Kansas is facing a lawsuit regarding its inability to adequately and fairly fund that education system.
David Sciarra, Executive Director of the Education Law Center, recently penned an op-ed for the New York Times giving some background on the Kansas suit and showing how it fits into a pattern of grievances held by parents and students nationwide whose educational opportunities are being curtailed by budget cuts and inequitable school funding:
"And yet in recent years Kansas has become the epicenter of a new battle over the states' obligation to adequately fund public education. Even though the state Constitution requires that it make 'suitable provision' for financing public education, Gov. Sam Brownback and the Republican-led Legislature have made draconian cuts in school spending, leading to a lawsuit that now sits before the state Supreme Court.

The outcome of that decision could resonate nationwide. Forty-five states have had lawsuits challenging the failure of governors and legislators to provide essential resources for a constitutional education. Litigation is pending against 11 states that allegedly provide inadequate and unfair school funding, including New York, Florida, Texas and California.

Many of these lawsuits successfully forced elected officials to increase school funding overall and to deliver more resources to poor students and those with special needs. If the Kansas Supreme Court rules otherwise, students in those states may begin to see the tide of education cuts return."
While waiting for a decision from the Kansas Supreme Court, what are policymakers in the state doing? Sadly, rather than taking a hard look at inequities in school finance or calling for change, they are threatening to amend the state constitution to remove the 'suitable provision' line and alter judicial jurisdiction over school funding cases.
Read Sciarra's full column here.