New York and New Jersey sit just on opposite sides of the Hudson River, but the two states are much further apart when it comes to investing in children and education. A report from the Campaign for Fiscal Equity (CFE) and Alliance for Quality Education (AQE) details how New Jersey's fair school funding system, which dedicates more resources towards lower-income students, has helped the state beat out its neighbor and become a model for ensuring equity and opportunity in education.
"A Tale of Two States" explains that New York has a regressive funding system; for every dollar invested in affluent districts, low-income districts get just 87 cents. This creates stark disparities in access to educational resources. The funding gap between New York's 100 wealthiest and 100 poorest school districts is a whopping $8,601 per student.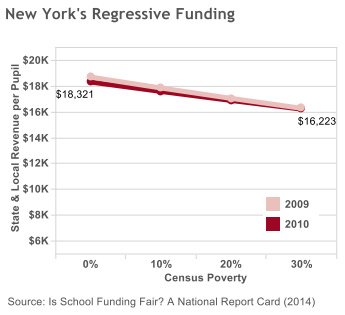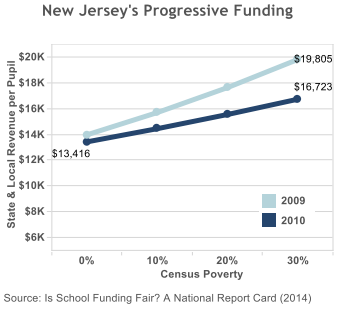 New Jersey is just the opposite; its progressive funding system ensures that for every dollar invested in affluent districts, low-income districts get $1.42. So even though New York spends on average more per student, New Jersey spends its money more fairly, and that has made a huge difference in student achievement.
On the National Assessment of Educational Progress (NAEP), New York scores around the national average and has seen little improvement over the past decade. New Jersey on the other hand is one of the highest performing states, particularly for low-income students, and has seen huge gains in student achievement and graduation rates.
For Billy Easton, Executive Director of AQE, the report paints a pictures of what education in New York should, but unfortunately does not, look like:
"As a New Yorker it hurts to say I am jealous of New Jersey, but they are clearly beating us when it comes to educational equity. For Governor Cuomo to keep saying money does not matter in education is simply ignoring the facts of educational inequality in New York. New Jersey's higher spending in high poverty schools results in substantially higher graduation rates."
AQE and other New York allies are leading the fight for fair funding in the state. Follow us on Facebook and Twitter for the latest updates, and check out the full report here.