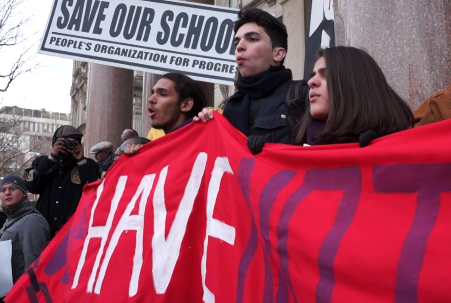 The fight over public schools is heating up in New Jersey. On March 27, advocates from across the state rallied at the NJ State House to protest the market-based reform policies that are hurting their public schools and to demand a new approach to supporting and improving the state's education system.
Above all, the protesters are demanding a voice in the decisions affecting their schools. With the state's endangered school funding system and looming school closures and turnarounds, communities feel locked out of the decision-making process. They're seeking an end to high-stakes testing (and the resulting demonization of teachers and public schools) and full, fair funding so that every school has what it needs to meet their students' needs.
Check out a great video recap of the March 27 event below. Learn more about the legislative battle for community voice in education here. For more pictures and video of the rally, follow #NJEdMarch27 on Twitter!