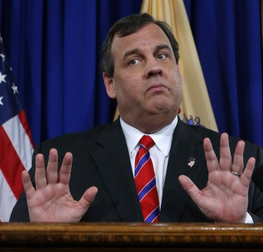 Photo: Eduardo Munoz/Reuters
The opposition to the harmful education reforms taking place in Newark, NJ, has gained a new ally: Dozens of Newark clergy members submitted a powerful letter to Gov. Chris Christie calling for a moratorium on the proposed reforms and for meaningful community input moving forward.
Newark's state-operated public school district is run by Superintendent Cami Anderson, who was appointed by Gov. Christie in 2011. Her "One Newark" reform plan for the district calls for closing some schools, turning others over to charter school operators, and laying off more than 1,000 teachers (and filling some of their empty positions with Teach For America recruits).
From Valerie Strauss at the Washington Post:
"There are others who are less opposed to her reform efforts than to her leadership style — or, more precisely, lack of it — as she fails to show up for budget meetings, refuses to provide a line-item budget, ignores checks and balances and gives bonuses to supporters while laying off teachers. Her decision to suspend four principals who spoke out against One Newark at a community meeting wasn't a great PR move."
Now, 77 clergy members are urging Gov. Christie to weigh in and help calm the frustration Anderson has created.
"We are extremely concerned about the level of public anger we see growing in the community, based upon an overwhelming sense of frustration, community disenfranchisement, and alienation that has resulted from the One Newark Public School Plan the Superintendent of Schools has proposed. [...] As religious leaders, we cannot, in clear conscience, ignore the moral imperative that a society empowers and engages human beings to lead in charting the course of their own destiny."
Read the full letter publishing in the Washington Post here.