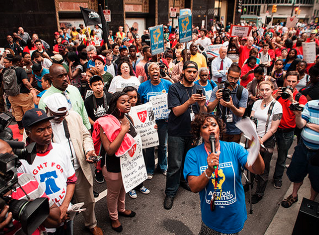 Photo via Matthew Hall/I
nquirer
Hundreds of parents, students and teachers protested in Philadelphia yesterday outside a joint fundraising event for PA Gov. Tom Corbett and NJ Gov. Chris Christie. The protesters are fighting against the education policies of the two governors, which have starved public schools of funding and left students without access to resources like full-time school nurses.
The fundraiser was originally supposed to be held outside the Urban League in downtown Philadelphia, though the protesters quickly discovered it was a "decoy location" set up by the governors' staffs. The crowd moved several blocks to the Comcast Center and resumed their protest. Six people engaged in civil disobedience sitting in the street and were arrested.
This was the second time this year that Gov. Corbett changed the location of an event at the last minute to avoid education organizers. In January, he was scheduled to make his first ever visit to a Philadelphia public school but changed his plans after protesters gathered at the school to greet him.
From the Philadelphia Citypaper:
"Corbett's inability to visit Philadelphia without sparking street protests could pose a growing problem for the governor if the schools crisis continues to deepen in the lead up to the November election. Corbett, an unpopular Republican widely considered to be the country's most vulnerable incumbent governor, faces a tough challenge from Democratic challenger Tom Wolf. In January, Corbett canceled a visit to Central High School at the last minute in the face of protests from students and community members. It would have been his first documented visit to a Philadelphia public school."
Many of the groups at the protest were OTL Campaign allies, including the Philadelphia Coalition Advocating for Public Schools (PCAPS), Youth United for Change and the Philadelphia Student Union.