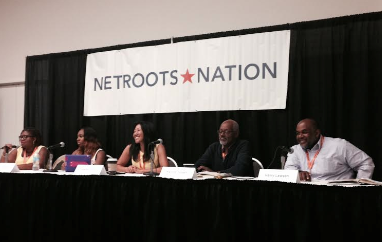 Across the country, students, parents, and educators are organizing to change their school districts' zero tolerance policies – and they're winning, with recent victories nationwide from Los Angeles to Denver to Maryland and Boston.
At the 2014 Netroots Nation conference in Detroit last weekend, advocates and organizers discussed the victories and continuing challenges in the movement for school discipline reform.
Misguided discipline policies like zero tolerance push children out of school and into the criminal justice system. They also disproportionately hurt Black, Latino, poor, LGBT and disabled students. The Netroots panel was moderated by Nakisha Lewis (a former OTL Campaign staff member), who guided an insightful discussion with Detroit high school student Toni Raines, CADRE founder and executive director Maisie Chin, Harold Jordan with ACLU of Pennsylvania and the Dignity in Schools Campaign, and Harry Lawson from the NEA's Human and Civil Rights Department.
Watch the full panel and check out some of the best live-tweets below!
#School2Prison pipeline originally framed as "dropout" crisis. Blamed students not the discipline system pushing them out -@NakLew #NN14

— Opportunity to Learn (@OTLCampaign) July 18, 2014
.@itzmemaisie "It's not just about suspensions, it's about criminalizing your child." #School2Prison #NN14 @OTLCampaign #AfAmEdChat

— NEA Public Relations (@NEAMedia) July 18, 2014
Really?! Wearing hoop earrings or hair braids are examples of defiance? #NN14 @OTLCampaign

— Jeff Bryant (@jeffbcdm) July 18, 2014
#Zerotolerance discipline impacts not just boys of color, also black & Latina girls & LGBT students. -@NakLew #NN14 pic.twitter.com/sA7egn7Bws

— Opportunity to Learn (@OTLCampaign) July 18, 2014