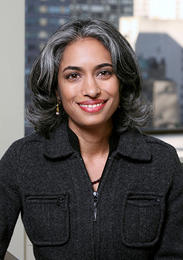 Kavitha Mediratta
The movement to reform harsh, discriminatory school discipline policies in our nation's schools is picking up steam, with calls for change coming from grassroots organizers nationwide all the way up to the US Departments of Education and Justice.
In a recent commentary for Education Week, Kavitha Mediratta of Atlantic Philanthropies writes about the problems in our nation's discipline system – and the cities and communities that are changing things for the better.
Harsh, zero-tolerance discipline policies were originally implemented with an eye towards making schools safer. Instead they've made school a less welcoming environment for students and teachers:
"Rather than improving safety in schools, harsh zero-tolerance discipline has far-reaching negative consequences—dramatically increasing the risk of failure, dropping out, and involvement with the justice system. Even worse, these types of severe punishments disproportionately fall on children of color, particularly African-American students, who are three times more likely than white students to be suspended, even for similar types of misbehavior."
School discipline doesn't have to look this way. For example, Mediratta tells the story of Baltimore's dramatic reduction in suspension rates, and their corresponding jump in graduation rates:
"In 2007, the high school graduation rate in Baltimore, a city where the school system serves 85,000 mostly African-American and low-income students, was an abysmal 34 percent. Then Andrés A. Alonso, the chief executive for the city's schools, took action. He revised the code of discipline to prevent suspensions for less serious offenses and instituted targeted counseling, after-school programs, and academic interventions to help students succeed.

Four years later, the dropout rate had been reduced by more than half. Eighty-seven percent of Baltimore students who began high school the year the reforms were implemented had either graduated or were completing their studies."
How can other cities and states follow Baltimore's example? In June, the Council on State Governments Justice Center released "The School Discipline Consensus Report," an in-depth report on the effects of harsh discipline and alternative policies. You can also check out the OTL Campaign's Restorative Practices Toolkit that explains different approaches to school discipline, from peer juries to restorative circles, that educators can use in their classrooms.
Read Mediratta's full EdWeek commentary here.