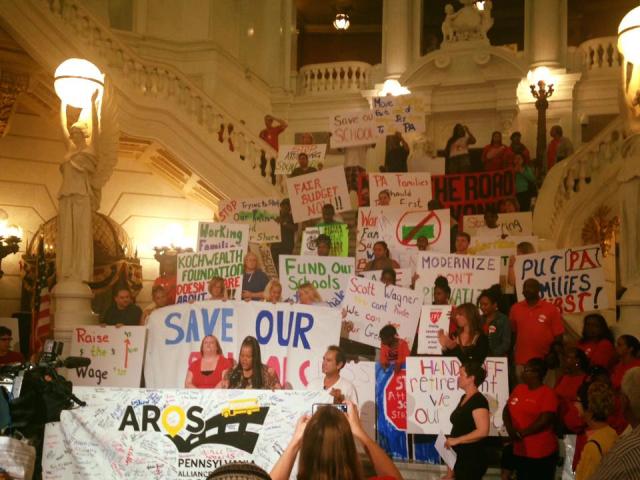 A rally in June at the PA Capitol
Despite fair funding recommendations, parents speaking out, and even state-wide bus tours, Pennsylvania is still without a budget that guarantees fair funding for education—in fact, the entire state budget remains unresolved. Now districts, teachers, and students are beginning to feel the effects. In the Chester Upland School District, teachers have decided to work without pay to keep schools open, and recently received even more bad news. Because of their long-term lack of funding and continually worsening financial situation, they have now been placed under review for a possible debt rating downgrade.
Students shouldn't have to rely on their teachers working without pay in order to receive an education, but that the reality for students in the Chester Upland District. It's an extreme example of the national trend towards reducing teacher pay, benefits, and power through both political policies and decreased funding. In Chester Upland, this isn't even the first time this has happened. Teachers also decided to work without pay in 2012 when the district ran out of money. The district has been chronically underfunded by Pennsylvania lawmakers, and much of its funding is also being diverted to charter schools that drain money from the district's traditional public schools. Currently, the district pays charters about $64 million in tuition—more than it receives in state aid.
As one teacher, Maria Weatherly, writes:
We've always put our students first. And we always will. The big question now is, will our lawmakers in Harrisburg do the same?

Will they put words into action? Will they put politics aside and do the right thing for the students in Chester Upland and across the commonwealth?

Will they walk the walk?

The teachers and support staff in Chester Upland have been asked to do what would be impossible in most of the working world: Go to work without pay. All we're asking lawmakers in Harrisburg to do is their job — fund our schools and fix the charter school funding system.
The teachers in the Chester Upland District and the entire state of Pennsylvania need a budget that will fully and equitably fund their public schools. The state's predicament also highlights the repercussions of the dangerous national trend of de-funding public education and promoting charter schools at the expense of their public school counterparts.