---
Vouchers – as well as state-sponsored tax-credit programs that support private schools – are not the answer to ensuring America's children have a fair and substantive opportunity to learn. These programs divert resources from public schools, affect a limited number of students and, most studies show, don't improve children's educational experiences.
The privatization of public education through vouchers means that public dollars are used to subsidize religious and private schools. Unlike the public schools that are the backbone of our democratic system, these private schools that receive taxpayer dollars are free to discriminate against students on a variety of grounds, including religion, disability, and English language ability.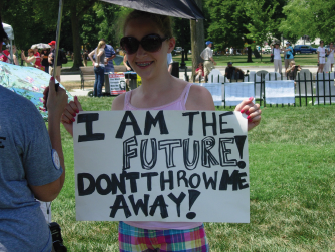 Source: Justice and Witness Ministries
Each year, $1 BILLION is redirected to private schools for voucher and tax-credit programs, according to ASCD – including nearly $300 million in Florida alone. Wisconsin annually diverts more than $130 million in hard-earned taxpayer dollars to fund its voucher initiatives, while Pennsylvania drains its public coffers of more than $52 million to support them.
Initially focused on low-income students in urban school districts, voucher proponents have expanded their proposals to middle-income and suburban areas – such as those in Indiana, Wisconsin and Douglas County, Colo.
This political push comes at a time when reputable research on voucher programs in Milwaukee, Cleveland, and Washington, D.C., indicates that these programs produce few if any statistically significant positive effects on student achievement.
In a recent national review of a decade's worth of research, the Center on Education Policy found that publicly funded voucher programs have failed to produce promised academic gains for thousands of students.
Moreover, the Education Law Center of Pennsylvania recently challenged the legality of voucher programs due to the discriminatory impact on children with disabilities and English language learners. The ELC argues that expanding voucher programs would substantially exclude these children from participating, which is prohibited by federal law.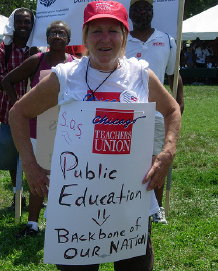 Source: Justice and Witness Ministries
Public education is at a crossroads. Critics of public schools want us to believe that all teachers and schools are failing. They want to impose their own unproven models that at best have succeeded for relatively few students. Such an ill-conceived approach is a recipe for national failure. Education is the underpinning of social justice – and economic opportunity. Public schools are the lifeline to opportunity. That lifeline must be there for all students.
The Opportunity to Learn Campaign, a national movement to eliminate the opportunity gap that is fueling a persistent achievement gap, aims to hold state and federal leaders accountable for ensuring that all children, regardless of where they live, have equitable access to the core resources they need to have a fair and substantial opportunity to learn:
• high-quality early childhood education
• highly prepared and effective teachers
• rigorous college-prep curriculum
• equitable instructional materials and policies.
---