FOR IMMEDIATE RELEASE
Contact: Shawna Ellis
[email protected]
617-876-7700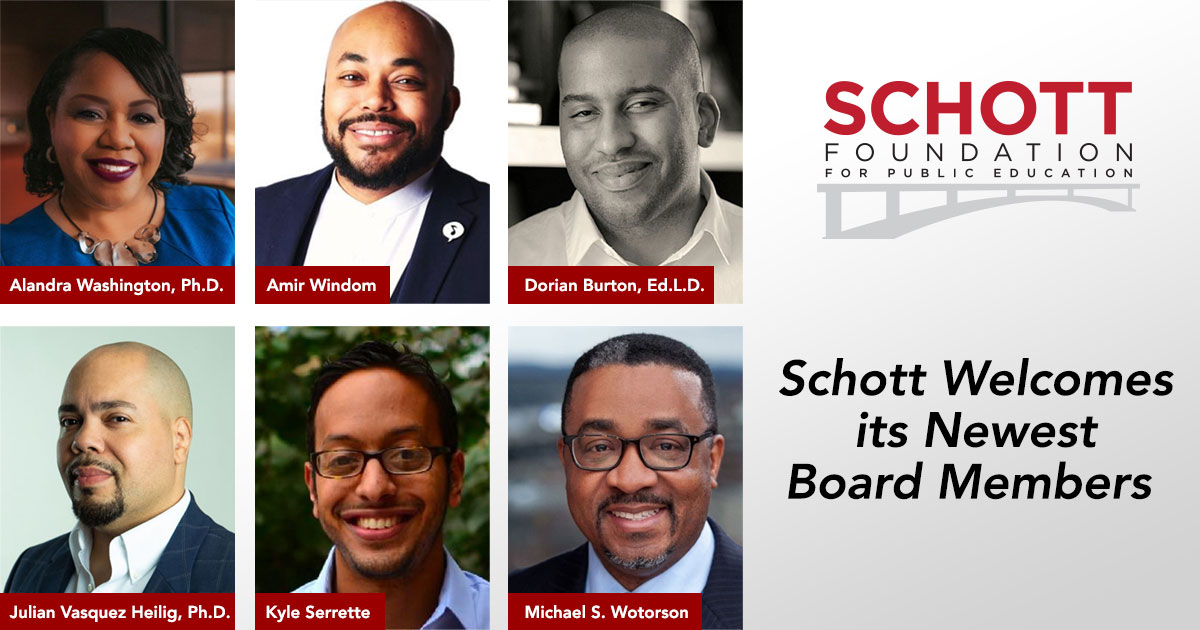 The Schott Foundation for Public Education is pleased to announce six new members elected to its Board of Directors. "Our country is at an important intersection where racial equity is central to our ability to challenge present conditions and create pathways to a more resilient future, said Carolina Espinal, Schott Board Chair. "On behalf of the Board, I am honored to welcome these immensely talented leaders to join Schott in advancing social justice through a movement for public education that provides all students - and communities – an opportunity to learn and thrive."
"These diverse leaders are deeply committed to Schott's mission and bring a wide range of invaluable expertise and experience to our team," said John H. Jackson, President & CEO.



Alandra Washington

Vice President for Transformation and Organizational Effectiveness at the W.K. Kellogg Foundation




Amir Windom

Grammy Award Winning Record & Entertainment Executive, Film Producer & Film/TV Music Supervisor




Dorian Burton, Ed.L.D.

Chief Program Officer and Assistant Executive Director at the William R. Kenan, Jr. Charitable Trust in Chapel Hill, NC




Julian Vasquez Heilig, Ph.D.

Dean of the University of Kentucky College of Education




Kyle Serrette

Senior policy analyst at the National Education Association (NEA)

Michael S. Wotorson

Senior Community Investments Officer at the Hartford Foundation for Public Giving in Hartford, CT