Earlier this week Tanya McDowell, the Bridgeport, Connecticut, mother accused of fraudulently enrolling her son in a Norwalk school, was sentenced to prison and must pay $6,200 to the city of Norwalk for stealing a better education for her son.
The case parallels a similar one in Ohio.
These cases, tragic for the people involved, are useful from a public policy point of view in that they underline the inequities of school finance and the consequences for children of those inequities. The community or neighborhood in which children live is in a large part dependent on their family's income and the quality of the education offered by local schools is in large part associated with the wealth, or lack of it, of the families in their school district.
Family income in this country is associated with race and ethnicity. In most places most Black and Latino families are poorer than most White, non-Latino families.
This situation is especially clear in the wealthy state of Connecticut. The following chart shows the relationship between minority enrollments and educational resources per student from local sources in that state: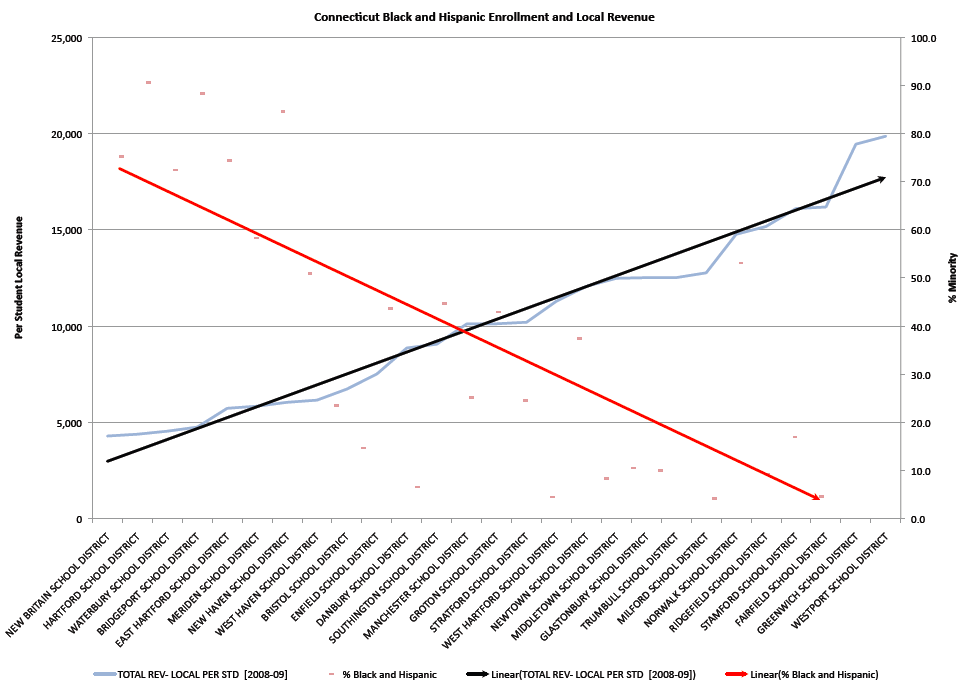 There are wide disparities in local revenue for education in the state, disparities that, in general, correspond to the level of minority enrollments: districts with a greater percentage of minorities have fewer resources than those with lesser percentages of minorities.
This next chart shows a measure of school effectiveness--graduation rates--again compared to revenue: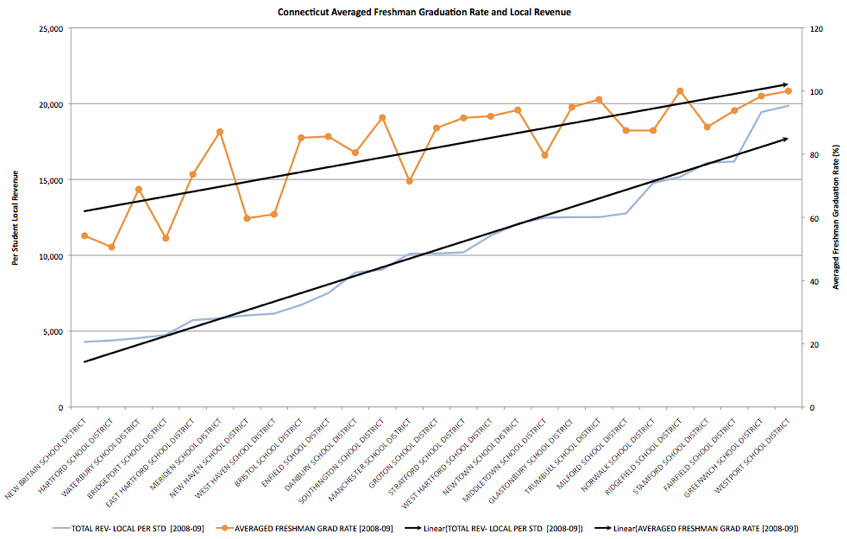 Graduation rates in Connecticut parallel revenue available for schools. Bridgeport's graduation rate is 53%; Norwalk's 88%.
School districts with more Black and Latino families have less money to spend on their children's education. Those districts with less money have poorer educational outcomes. Given this, one might say that both Ms. McDowell and Norwalk acted rationally. Ms. McDowell, like any parent, wanted the best possible education for her son. Norwalk . . . well, Norwalk acted in accordance with the law.