[UPDATED with additional resources]
Just in case anyone needed further proof that "education is the civil rights issue of our time," shocking new data released by the U.S. Department of Education's Office for Civil Rights paints a stark picture of the opportunity gap facing students of color. From school discipline policies and teacher equity to grade retention, early childhood education, and access to and participation in algebra classes and gifted programs, students of color are disproportionately - and negatively - affected.
The OCR data, which covers the 2009-2010 school year, is the most comprehensive look yet at education opportunity and inequality in our nation. It surveys 6,835 school districts, including 72,000 schools and more than 42 million public schools students (accounting for 85 percent of all public school students.)
When it comes to school discipline policies, the data reveals that Black students, who made up just 18 percent of students surveyed, accounted for 46 percent of students suspended more than once and 39 percent of those expelled. Black students were three and a half times as likely to be suspended or expelled than their White peers, and Black and Hispanic students together represented more than 70 percent of cases referred to law enforcement.
Russlyn Ali, Assistan Secretary for the OCR, provided the following chart at a press conference at Howard University: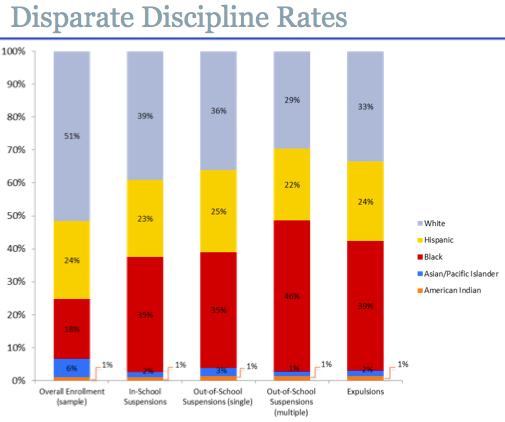 These statistics are particularly troubling when it comes to ending the school-to-prison pipeline. We know that students who are suspended or expelled (especially under zero-tolerance discipline policies) are more likely to fall behind in class and drop out of school all together. They are also more likely to wind up in the criminal justice system. That students of color are being disproportionately affected by these discipline policies is unacceptable and reveals a systemic inability in our education system to provide all students with an equal opportunity to learn.
The OCR data also revelas inequities in access to experienced, high-quality teachers. Schools with more students of color were more likely to have inexperienced, low-paid teachers who were paid $2,251 less than their colleagues in schools with a higher number of White students.
Though the discipline and teacher quality numbers are the most shocking to come out of the OCR report, it's well worth checking out the rest of the data, which you can access on OCR's data collection website here.
The PowerPoint presentation Ali showed at the press conference is also worth flipping through as it includes a lot of great graphics and charts. The PowerPoint is attached to this blog post - simply click on the file at the bottom of the post.
You can read more about discipline related findings in this New York Times analysis (here).
And be sure to check out the OTL School-to-Prison Pipeline Toolkit which includes an overview of the issues surrounding harsh discipline policies and school pushout as well as advocacy tools and a list of key organizations. You can download the toolkit here.