Cross-Sector Advocates Release Action Plan for Reducing Suspensions in NYC
Highlights Positive Discipline Strategies from Across the Nation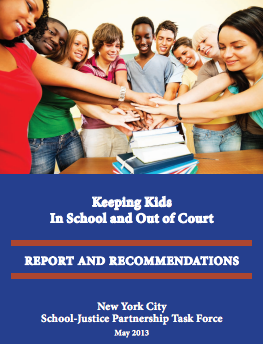 In an inspiring display of cross-sector collaboration, the New York City School-Justice Partnership Task Force released an action plan for NYC officials to reduce the use of suspensions, summonses, and arrests. The Task Force seeks to build common cause between different agencies and communities to implement positive school discipline policies.
The report, "Keeping Kids in School and Out of Court," comes after recent victories in Buffalo, NY, and Los Angeles, CA, where advocates and organizers successfully pushed to limit the use of suspensions and support students rather than force them down the school-to-prison pipeline.
Despite a decrease in school violence over the past decade, NYC has seen a 40% increase in the number of suspensions since the 2005-06 school year. In the 2011-12 school year, there were 69,643 suspensions, 1,666 summonses, and 882 school-related arrests, all of which disproportionately affected students of color. Most disciplinary actions were in response to minor misbehaviors like dress code violations or talking back to a teacher rather than serious offenses that threaten school safety.
Reforming discipline policies will take collaboration between educators, parents, community members, researchers, the judiciary and city officials. The Task Force cites successful reform efforts in cities like Baltimore and Cincinnati. These reforms have focused on building school capacity to appropriately deal with student misbehaviors and providing wraparound health and social supports for struggling students. Also crucial is limiting the use of school safety officers in dealing with minor misbehaviors and improving education planning and re-engagement strategies for youth involved with the court or juvenile justice system.
The Task Force's report, which you can download here, echoes two recent policy guides published by the OTL Campaign and allies – one for state policymakers and one for school board members.
Click here to read the Task Force's press release about the report. And watch Judge Judith Kaye, former NY Chief Judge and Chair of the Task Force, discuss the report on MSNBC below!