Putting young people in jail – particularly for nonviolent offenses – is a failed strategy, according to a new report from the Annie E. Casey Foundation that relied on decades of research and data such as this: "Nationally, just 12 percent of the nearly 150,000 youth placed into residential programs by delinquency courts in 2007 had committed aggravated assault, robbery, rape, or homicide." The greatest proportion of incarcerated youth – about 40 percent of the total, and disproportionately youth of color – are held in locked, long-term correctional facilities.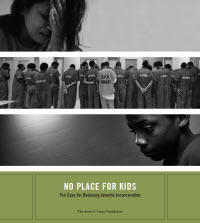 The report's most scathing findings include that youth incarceration does not reduce future offending; provides no overall benefit to public safety; wastes taxpayer dollars; and exposes youth to high levels of violence and abuse.

We must invest in constructive solutions that engage our youth and give them hope for brighter futures. By investing in their opportunities to learn, we can provide the tools they need to excel academically, socially and civically.

The read the Casey Foundation's full report, visit http://www.aecf.org/OurWork/JuvenileJustice/JuvenileJusticeReport.aspx.