The nation is not going to improve the educational outcomes and lifetime opportunities of its neediest citizens until we turn around our lowest-performing schools. The question has been – and remains: How do we do that?

Under the federal School Improvement Grant (SIG) program, the answer is for schools that are targeted for the grants to adopt one of four school improvement models, ranging from a purge of school leadership to closing the school.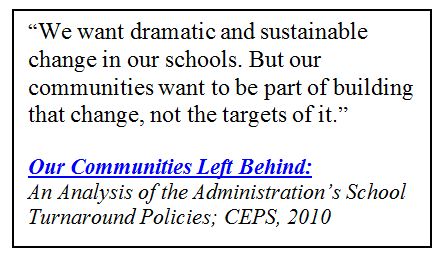 Communities for Excellent Public Schools (CEPS) and a growing list of community-based organizations in low-income communities of color across the country have signed a petition urging Secretary of Education Arne Duncan to consider a different solution to turn around schools and sustain improved performance.

That solution, called the Sustainable Success Model, requires school districts to go through a comprehensive needs assessment involving the local community, implement research-based instructional reforms, and address social, emotional and physical needs of children.

Perhaps most important of all – and the most overlooked and undervalued step of all – is the Sustainable Success Model's recognition that parent, student and community leadership is key to sustainable student success.

The National Opportunity to Learn Campaign signed the petition because we agree with CEPS that current intervention models lacking critical community involvement are not adequate to produce the dramatic improvements needed to close opportunity gaps and graduate all students prepared for college and a meaningful career.

The lesson for the U.S. Department of Education and Secretary Duncan: The public needs to be involved in public education.